Ordered the Hub last Wednesday from Rogers over the phone and got the Sony Ericsson W35 for $149.99 with the 2 year contract. Received it via Canada Post this last Tuesday and have been using it for a few days. I have the Hub itself facing a south window directly pointed at where the Rogers cell tower should be located (just a guesstimate). I'm usually showing 3/4 bars but sometimes it drops down to 2/4. Here are the relevant tests (at 3 bars):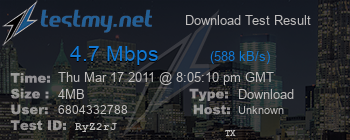 I had just noticed yesterday that they have a new promotion for the W35 for $99.99 which was kind of a bummer considering I paid 50 bucks more less than a week ago. I called Rogers to try to get some sort of credit and was able to get unlimited data for the first 3 months, pretty sweet. I guess I'll be keeping it after the 15 day "Buyer's Remorse" window they have. Here are my broken-down Xplornet speeds for comparison (1.5M max):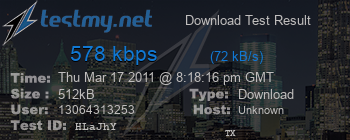 See-ya Xplornet ya big rip off!